For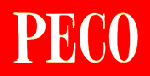 ®

Peco is one of the leading manufacturers of quality Model Railway products.
Whether looking for Track in Set Track or Flexi track (in all scales),
Track Electrics, Buildings, Accessories, Locomotives or Rolling Stock ....
Peco has a product for you.
( Note: All prices are in Australian Dollars)
Peco Products
in O, On30 (O 16.5), HO and N Click on the images to go to a larger view

HO Track and Accessories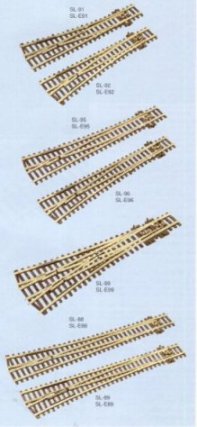 Peco Turnouts (Points) HO scale available in Insulfrog (shown) and Electrofrog
All Nickel Silver
Code 100 ;

ST240/241 #2 438mm 17 1/4" radius, 22.5deg Angle, 168mm 6 5/8" Long $20.00
ST244/245 Curved turnouts, 11 1/4" Angle $29.00
ST247 medium Radius Y Turnout 859.6mm 33 27/32" Radius 11 1/4" Angle 170mm 6 11/16" Long $24.75
ST250 Medium Crossing Insulfrog, Frog Angle 22 1/2deg $20.00
ST270 Sleeper Built Buffer Stop $3.00
SL86 / SL87 Curved Double Radius Outside 1524mm 60" Inside 762mm 30" 256mm 10 1/16" Long $29.00
SLE88 / SLE89 Electrofrog Large Radius 1524mm 60" Radius 12deg Angle 258mm 10 5/32" Long $29.00
SL91 / SL92 Small $22.00 610mm 24" radius 12deg Angle 185mm 7 9/32" Long #4 $22.00
SLE91 / SLE92 Electrofrog dimensions as above $23.00
SL93 Short crossing 24deg Angle, 127mm 5" Long $19.00
SL95 / SL96 Medium $22.00 914mm 36" radius 12deg Angle 219mm 8 5/8" Long #6 $24.00
SL97 "Y" 610mm 24" Radius, 24deg Angle, 148mm 513/16" Long $21.00
SL99 Medium Radius 3 Way 914mm 36" and 610mm 24" 12deg Angle 220mm 8 21/32" Long $63.95
SL100 Flexi Track 914mm 36" Long $5.50, Box of 25 $120.00
SL10 Rail Joiners (24) $4.40
SL11 Insulated Rail Joiners (12) $4.40
SL40 Rail Type Buffer Stop $2.45
ST280 Track Pins 14mm $4.80
ST270 Sleeper Built Track Buffer Stop $2.50
LK1 Water Tower $7.95
LK56 Inspection Pit Kit 297mm 11.7" Long
Above Kit includes 6 Pit Units, 2 Pairs of Stairs and 4 walkway Plates $15.00
O-16.5 On30 Track and Accessories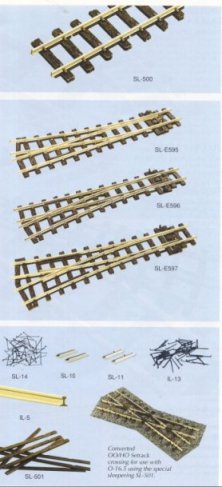 On30 is also known in Europe as Oe and O-16.5 (although slightly different scale)
16.5mm being the width between the rails of HO track.
On30 is "O" Scale Narrow Guage running on HO track.
The track itself has the ties spaced further apart to reflect the increase in scale.
Peco On30 scale Turnouts (electrofrog only) and Track Accessories
Same width as HO but ties spaced further apart and longer to suit the Narrow Guage Railways

SL500 Flexi Track On30 lengths 914mm 36" $9.50 per length (Box of 12 $8.60 per length)
SLE 595 RH Electrofrog Turnout radius 610mm 24", 12deg. Angle, 185mm long 7 9/32" $31.00 #6
SLE 596 LH Electrofrog details as above
SLE597 Y Medium Turnout radius 914mm 36" Radius, 22deg.Angle, 197mm long 7 3/4" $28.40 #4
SL501 Wooden Sleepers pack of 10 $6.60
SL10 Rail Joiners (24) $4.65
SL11 Insulated Rail Joiners (12) $4.65
ST280 Track Pins 14mm $4.50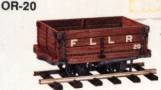 On30 Peco OR-20 4 Ton Mineral Waggon Kit (couplings not included) $18.00
2 1/2" long 1 1/4" Wide 3/4" High Sides


On30 Peco OR-21 2 Ton Flat Car Kit (couplings not included) $19.95


On30 Peco OR-22 Bolster Car Kit (couplings not included) $17.00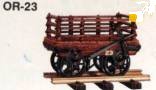 On30 Peco OR23 1 Ton Slate Waggon Kit (couplings not included) $16.00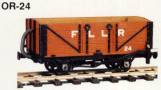 On30 Peco OR-24 4 Wheel Open Waggon Kit (couplings not included) $17.00
3" Long 1 1/2" Wide 7/8" High Sides
O Scale Track
SL700B Wooden Sleeper Flex Track $
SLE791B / SLE 792B Medium Turnout $
SLE794B Long Crossing $
SLE797B Medium Y Turnout $
SL710B Rail Joiners $
SL740BH Buffer Stop Rail Built

N Scale Track
SL300 Flextrack $5.50 per length
SL310 Rail Joiners $4.15 per pkt
SL311 Insulated rail Joiners $4.15 per pkt
SL395 / SL396 RH/LH points $21.00 each
Peco Electrics and Accessories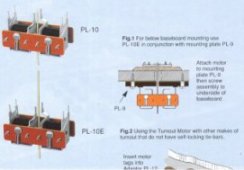 Peco Switch or Turnout Motors for electrical operation of your Turnouts
Available in standard and extended shaft.
PL10E extended shaft $12.70
PL9 Mounting Plate for above switch under layout plate $5.00
PL11 Side Mounted Point Motor $22.95
PL12 Motor Adaptop Base for mounting on top of layout $4.40


Peco Accessory Switch (suits above motor)
PL13 $6.00
PL35 Capacitor Discharge Unit $34.95


Peco Track Cleaner
PL41 $7.40
PL64 Electrolube for lubricating motors, commutators and bearings $10.50
PL70 Locomotive Servicing Cradle 254mm 10" Long $13.50
If it a Peco product and not shown on this page, please ask for a price and availability.